Women in Tech: Choose to Challenge and #BreakTheBias
08/03/2022 | by Proximity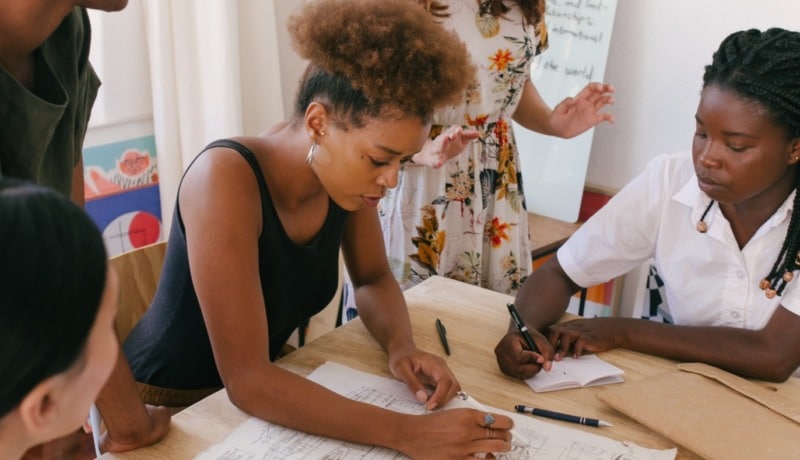 This year's theme for International Women's Day is #BreakTheBias – a topic extremely relevant to women within our sector, women in tech. This year, we reached out to Cathy McCabe – CEO & Co-Founder here at Proximity Insight to ask her questions about the subject.
We're a company with a 50% female to male ratio, unusual when compared to industry statistics stating that 81% of tech is made up of men, with women in tech at just 19%. We're proud to be able to share this message of inclusion, to reinforce Proximity Insight's support for women in tech everywhere and underpinning the challenge that is to #BreakTheBias.
We hope that the female force at Proximity Insight can inspire a younger generation of women who may feel sidelined from pursuing a career in tech or that "tech is for boys". We're showcasing that there is plenty of opportunity for women in this industry, with many possible routes to take. Women work throughout our company in each area, including product, customer success and the leadership team, some of whom are working Mum's that still find the time to juggle both roles, adding huge value to our clients and helping our company to grow at pace.
Past research has indicated that women generally do not feel as welcome due to "work culture and gender discrimination" – something that must be changed. Cathy McCabe spearheads the Proximity Insight team as CEO – making her a part of a minority as a female leader and even smaller minority as female leader of a tech company. After navigating a career spanning retail and technology, she shares with us what she makes of the industry and how its' changed since she first started in tech, what she wanted to be when growing up, personal career highlights and what it's really like for women in tech.
"This year's theme is #BreakTheBias – what does that mean to you?"
I guess break the bias is really about, you know, doing things differently and that's on both sides. We have to do things differently as females and as males. So let's do things differently, make it possible.
"What's the importance of having a day to recognise women?
I think it's important to have a day because I think it's more about celebrating successes, inspiring a younger generation of females that can achieve. You can look at different types of careers and I think the stories that come out international women's day, the achievements that people have made are just there to be actively shared and to be able to show our young women and females and students that are coming up through that, that anything is possible.
"What's the best thing about being a woman in the tech industry?"
I guess the best thing about being a woman in tech is just the sheer possibility of achieving. You can be quite driven, in terms of the ambition, to build a product that's disrupting the whole of retail.
"What advice would you give to women who are just starting out?"
That is a really interesting question and one I get asked quite a lot and I think my consistent answer to this question is always to be bold. I think when you're starting out, you need to be curious, you need to be confident, you need to be able to explore different options and I think it's that sort of thing that's been incredibly powerful throughout my career. I've always put my hand up to do something different to believe that I can succeed, by actually doing something that perhaps no one else wants to do.
"Where are you working from today?"
So it's great that I'm actually at Albright today, which is a female-only club, who bring lots of different CEOs, founders, entrepreneurs, young startups that are really just starting on their journey, and it's incredibly powerful to bring everyone together in a single place. And it's an open working space, it's really easy to be able to network with people, to sort of bring different expertise and skillsets together and it can be when you're working in a startup and a scale-up and there's people that have told you on path. So it was really powerful to be able to speak to different people, to share best practice, to share learning experiences. This is why I think Albright's a really great place to be able to be part of that community.
"How important is it for you to bring women into your company?"
I think it's incredibly important for any company. Diversity is what makes a great team, having diverse skills, having diverse perspectives, having that balance of gender really, really powers the team and I think that's something that's, you know, every company should consider that.
"Has there been a change in the industry since you started?"
I think nowadays there's a lot more female tech people in the room, it's not quite as dominated now and, and that's great because we need to encourage more girls, more women to, to take up a position in tech, and it's not all just about coding. There's such a diverse career path when you're working in technology, that can give you flexibility to work alongside bringing up a family, having different priorities, so I think the world has changed and I think that's much better and something that we're getting to grips with now.
"What's the ratio of women in Proximity Insight?
We're pretty much 50% female, 50% male, and we have a lot of females in our leadership team. They are very strong, powerful women. They're working on the side of our guys and our men, and it brings about a really awesome team.
"What's been a personal highlight?"
That's a tough one, I guess, because I think as you go through your career, you have various highlights. You know, I look back on when I first left a corporate job and started freelance. That was an incredibly interesting time for me. And one that I really enjoyed because I had a lot of variety working for different clients, but then I also was able to bring up my family and raise a family. So I had that, which was quite unusual 20 odd years ago. The highlights, when I first started working, I went back into a corporate role at Burberry, I was really lucky to be joining an absolutely talented team, working there, doing some incredibly exciting innovation and delivering technology projects where tech was definitely at the front of the bus as a brand, and then now in the role that I have today, I feel it's an incredibly great role. I'm constantly learning. I'm constantly growing personally, but also I'm able to come in and build a company and build a team and work with my co-founders and the team to deliver a really strong vision and purpose.
"What's been your biggest challenge?"
I think the challenge of change throughout your life and throughout your career, because you go through different stages. I guess I have always worked in a male dominated world from my store retail management days all the way through to  when I first started out in tech and I was often the only female in the room. So I think the challenges there are to feel confident in your own ability to understand the value and the expertise that you. Also not to worry about asking silly questions because often there's not a silly question.
"What career did you want when you were growing up?
Oh, that's interesting. So, I mean, I completely pivoted I'm wanting to be a diplomat. I was a language student. I learned Russian, German and Spanish at school so I was very much focused on travelling the world, becoming a diplomat, and that's what I wanted to do. And then I changed because actually, I fell in love and I actually accidentally fell into retail.
What 3 words would you use to describe the female team members at Proximity Insight?
So I think the females in our team are probably the three words that I would describe them are strong, super organised, and incredibly resilient and amazing.
"What team do you support?"
Tottenham Hotspur
"What's your favourite colour?"
Blue
"What's your favourite flower?"
Lilies
"what's your favourite tea or coffee? 
Tea
"What kind of tea?"
Herbal or an English breakfast tea in the morning
"What time do you wake up?"
Half past five
What's the first thing you do in the morning?
The right answer is to have a glass of water or to do my five Tibetan yoga movements. Mostly I pick up my phone.
"is that emails that work straight away?"
Yeah.
"what time do you have breakfast?"
Breakfast? I don't tend to have until half-past 10, so I tend to do a bit of intermittent fasting
"what's on the menu for breakfast?"
Um, usually oatmeal, bircher oatmeal, fruit. Um, if I'm being naughty, a vegan sausage roll
"Do you have any pets?
A dog, two dogs, Ziggy and angel my Akitas.
Apple or windows?
Apple Absolutely.  A hundred percent apple.
It's been a pleasure to interview Cathy and hear her thoughts and views on this impactful topic. The females behind Proximity Insight are super proud women in tech, whose and knowledge within the exciting industry is impeccable. Collectively as a company, we stand together to help #BreakTheBias.