TrailblazerDX 2023 – Where the magic happens
14/03/2023 | by Miquel Vives Font
The engineering and delivery team attended TrailblazerDX 2023 in San Francisco last week, a world wide conference for Salesforce developers and administrators where the brightest minds within the Salesforce Ecosystem get together to share knowledge and, why not, a laugh or two! This conference also serves as a launching space for the latest Salesforce features, and this year did not disappoint.
On the first day we had the chance to boost our knowledge by getting some Salesforce certifications, and had our first catch up with the Salesforce Ecosystem at the Salesforce Tower. It included games, networking and knowledge exchange.
Then came the main course. We were able to see for the very first time Einstein GPT, the new AI assistant for devs and admins… this dude is going to be game changing! From creating an email to generating code and test units, the star of the show, but equally interesting given the space we work in and the significant opportunities on offer with respect to retail. It will go a long way to helping retailers achieve that single, accurate, view of the customer.
We could also see new improvements in security when writing code, and also get a taste of what is to come. Conferences like this help us keep on top of new technologies and features that Salesforce release every year.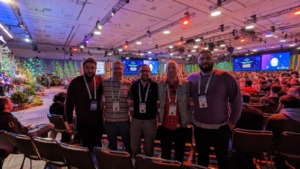 The second day of the conference, true to the core, brought us great news as Salesforce will provide 5 User Integration licences when creating a new org, which will be really important as it will help with testing and provide greater value to our amazing clients.
Flows also had their fair share of time across the conference, to remind us one of the biggest things Salesforce has, you can automate your processes without needing to write a line of code. You are only limited by your imagination!
TrailblazerDX is more than a conference, it is about friendship and sharing, excitement and innovation. Not only as devs and admins, but for the whole Proximity crew it was also a time to get to know each other and exchange ideas, grow as a team, and catch up in real life.