Back to Networking: Retail Event
30/11/2021 | by Proximity
Before the Covid outbreak in 2020, IRL events had always been a big part of retail. Going without has been a hot topic of conversation for many of us; as satisfaction and productivity of virtual vs. in-person meetings and events. Regardless of which way you lean, there is no denying that when one is able to interact face-to-face with others, the energy is unparalleled. Thankfully (for now) this is no longer dependent on which web platform you use, or how strong their internet connection is!
Attending my first post pandemic retail event
Last month, I was fortunate enough to be able to attend my first in-person retail event in almost two years with some of my colleagues from Proximity Insight. We attended Retail Week Live, which brought together some of the best retail and tech companies and minds under one roof at Magazinein South East London. For two action-packed days attendees were busy networking, perusing the booths and attending panel talk sessions and events. From the moment I stepped off the London Underground and walked toward the arena, I could feel the energy and excitement of the crowd. One could be forgiven for a momentary lapse in thinking it was a packed concert on the horizon! Once we passed our vaccination and ticket checks in this brave new world, we were inside and the enthusiasm among the attendees was electric.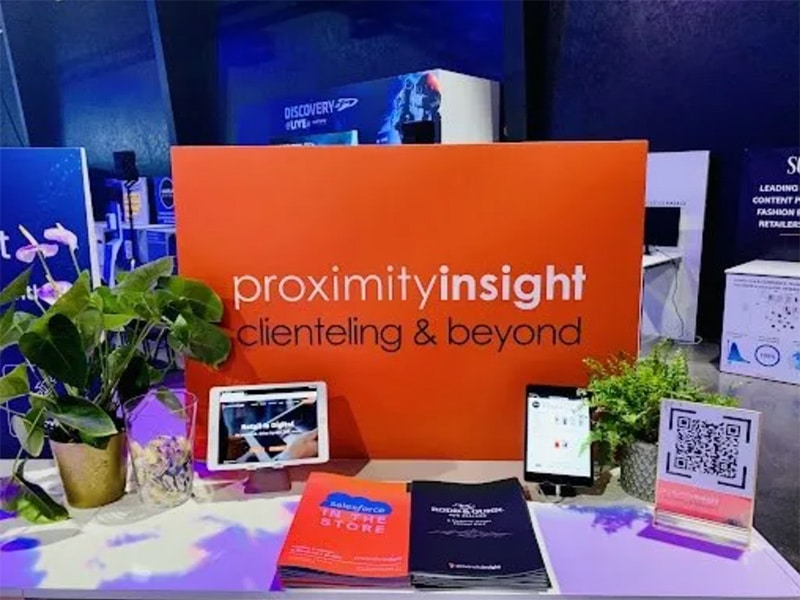 Networking at a retail event
Proximity Insight was fortunate enough to have a booth as a part of the tech innovation area, where we could chat directly with retailers and other tech companies. The shared sense of community and passion for retail shone through all we met. In this space, we connected directly with retailers, and were able to demonstrate our retail technology live on an ipad. What was clear from those whom we engaged with was that retail amidst rapid change and leaders within the industry are responding with accelerated plans to introduce technology with a very digital future in mind. There was a thirst for technology that allows retailers to connect better with their customers, and I was very proud to be able to show what our technology can do. Coming from a career in retail myself, personalisation and clienteling are two areas that I'm passionate about and have been fortunate enough, in my career, to see the benefits of these when executed well. Demonstrating how the Proximity Insight clienteling tool can deliver the technology to do this, and most importantly in the hands of sales associates who know their customers best, was the icing on the cake of an extraordinary two days at this retail event.
Our CEO on the panel discussion
Our CEO Cathy McCabe also hosted a panel discussion with Sojin Lee, CEO and Founder of Toshi and John Douglas, CTO at Gymshark. This panel centered around the evolution of retail, and how technology intersects with this to make retailers more successful at what they do. There was great discussion and engagement from the audience – all agreeing that the pace that retail is evolving in response to consumer demand places technology at the front and centre of where businesses need to act.
My final thoughts..
The two days spent at this retail event were nothing short of extraordinary, and it was so wonderful to be a part of an environment that celebrates the very best of retail and digital minds. To me, what mattered most was the sense of community that was felt amongst everyone who was attending, as if we were children attending our first day of school. We know that this is something that is much more difficult to replicate in a virtual setting, and it was wonderful to switch off the mute button, shut down the computer and engage face-to-face once again at the retail event with colleagues across two very exciting industries that have such a positive future ahead.