Beauty Industry Clienteling Insight From an Expert
17/11/2020 | by Fran Mayler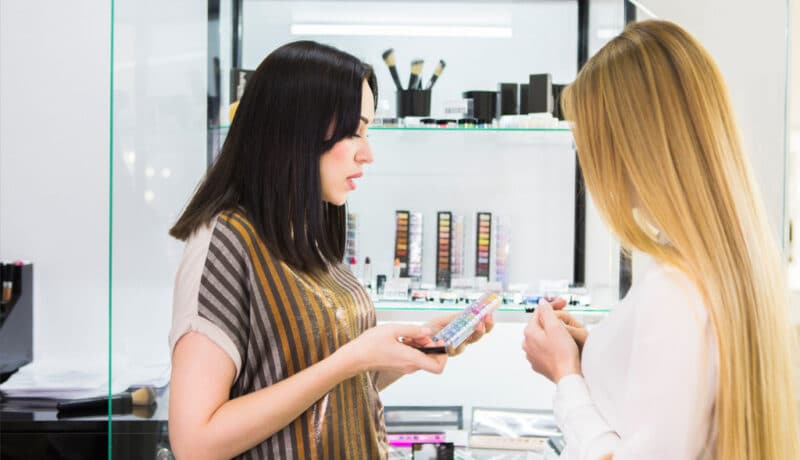 I would like to introduce myself: my name is Fran, I am a Customer Success Manager at Proximity Insight which means I work closely with brands to ensure they have the right tools to support their customer facing teams to build incredible relationships with their customers. I am also a self confessed beauty addict.
It all started around six years ago when I was working for a luxury department store and had the opportunity to join the management team of the beauty department. I had no prior experience of working within the beauty industry and had always been a little intimidated by all things beauty. Suffice to say that once I had overcome my initial trepidation I became obsessed with all things beauty. Even though I made a career change into the tech sector, I continue to live and breathe beauty now as a consumer. As my colleagues will tell you, the moment you start talking to me about anything beauty related expect me to digress for the next 30 minutes, minimum.
The Brand Toolkit for Beauty Consultants
In the course of my journey from Beauty Manager to Customer Success Manager I cannot help but think what a difference clienteling and the Essential Brand Tool Kit would have made to the teams. Even just the ability to record customer data in a GDPR compliant manner and note their product preferences, skincare requirements and product recommendations would already have revolutionised their days. Add to this the ability to follow up with their clients with personalised communications either via email or social messages, allowing them to continue to build their relationships with their clients whilst retaining a record of their interactions to build a 360 degree view of the customer.
Beauty clienteling cannot be underestimated
The Power of Thank You message shared with a client post purchase cannot be underestimated, especially if this is a personalised message from the beauty consultant and not a marketing email. We have seen some amazing results with existing clients. For example, Our target KPI's see 50% open rate, 15%-20% response rates and 15% conversion rates. Our open and response rates have increased since there was less opportunity for customers to shop in-store earlier in the year.
Furthermore, by reaching out to the client shortly after their purchase the beauty consultant can confirm that the client is happy with their products, therefore reducing the possibility of a complaint. I know mistakes can happen where a client is given the wrong foundation shade or a product is faulty which can adversely affect the customer's experience. Though we will never completely remove the chances of a customer complaint arising we can minimise the pain points in their journey with the brand by giving the beauty consultant the tools to be proactive and follow up with their clients post purchase.
The Essential Collection Builder
With the introduction of the Collection Builder beauty teams now have the opportunity to share a personalised microsite with their clients. It's like presenting your clients with their own mini website which is updated with their personal recommendations and which they can shop with ease with virtual payment tools such as build a basket and pay by link minimising friction in the customer journey. Imagine being able to present your customer with their own website which is curated just for them!
Engaging with clients is vital
To me, beauty consultants are possibly the best sales people I have worked with, though I am perhaps a little biased. Their ability to engage with customers and build a rapport is second to none as is their ability to build a sale with suggested add ons. Just think how often you perhaps went to buy a mascara or lipstick and left with at least an additional two items if not more! Now what if you could apply these skills to connect with clients irrespective of whether traditional bricks and mortar stores are trading. The Essential Brand Toolkit enables the teams to connect with their clients through video chat and live chat allowing them to offer advice, hold a one-to-one masterclasses or a how-to tutorial. Truly, the opportunities to connect and engage with clients are now endless with beauty clienteling.
The Essential Appointment Booker
The Appointment Booker is an amazing tool that can be used to book both virtual and in store appointments. The customer's journey on the brand website can be customised to reflect the brand's specifications. Ahead of the appointment a form can be shared with the customer to capture their requirements in detail therefore ensuring that the full appointment is maximised as the beauty consultant already has an understanding of their needs. By contacting the client ahead of their appointment the beauty consultant can also confirm the customer's attendance therefore minimising the chance of a customer not attending their appointment. It is always frustrating for the teams when they are booked back to back but their customers do not attend as they could have accommodated another client instead and their time is not being maximised.
With the onset of the global pandemic the beauty industry has been dragged into the 21st century and has embraced technology. Though the days of reams of paperwork (for those not familiar, please ask someone who has worked on a beauty counter what I mean!) may not quite have ended, technology has revolutionised how we engage with customers. To think of how the tools could have been used to drive the business, engage with customers, manage the consultants' days and innovate amazing experiences for our clients almost makes me miss the day to day of working on the shopfloor… almost!