Salesforce World Tour London 2023: A Celebration of Customer Experience
11/07/2023 | by Katie Sadler
Salesforce World Tour London 2023 took the city by storm bringing together industry leaders, experts, and enthusiasts to explore the latest advancements in customer experience all under one roof at the Excel exhibition centre. The event showcased the latest trends, innovations, and insights that are shaping the future of customer experience. With a central focus on AI, data, and CRM, Salesforce World Tour London proved to be an enlightening and immersive experience for all attendees.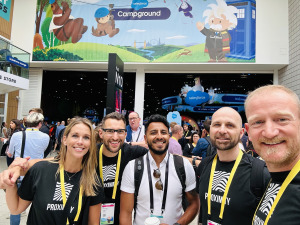 Unifying the Customer Experience:
One of the key themes was the importance of a unified customer experience. Industry experts emphasised the need for organisations to break down silos and integrate their customer data, enabling a seamless and personalised journey across all touch points. The power of Salesforce's innovative platform and solutions in achieving this goal was showcased through inspiring keynotes, interactive demos, and real-life success stories.
Harnessing the Power of AI:
Artificial Intelligence (AI) emerged as a driving force behind transforming customer experiences. Attendees had the opportunity to witness firsthand how AI-powered technologies, such as Salesforce Einstein, are revolutionising sales, marketing, and service operations. From predictive analytics to intelligent chatbots, AI is empowering brands to anticipate customer needs, deliver tailored recommendations, and provide proactive support.
Leveraging the Potential of Data:
Data has become the lifeblood of successful customer engagement strategies, and this was reinforced throughout the event. Sessions focused on harnessing the potential of data and exploring topics such as data-driven marketing, customer segmentation, and data governance. Salesforce's robust data management capabilities and advanced analytics tools enable brands to unlock valuable insights and drive meaningful interactions with their customers.
CRM as the Foundation:
The pivotal role played by Customer Relationship Management (CRM) systems was another underlying theme, in particular the importance of a solid CRM foundation for delivering exceptional experiences. Salesforce's comprehensive CRM platform and its ecosystem of integrated apps and solutions provide brands with the tools to manage customer relationships, streamline processes, and foster collaboration across teams.
Key Takeaways:
Salesforce World Tour London 2023 left attendees with a wealth of knowledge and actionable insights. The event reinforced the significance of placing the customer at the heart of business strategies and showcased the transformative impact that AI, data, and CRM can have on elevating customer experiences, and a deeper understanding of how these elements can shape the future of customer engagement.