Why retailers need to prioritize clienteling now
14/02/2023 | by John Liebler
I've had the pleasure of working in retail for over 30 years, and during this time, I've helped inform the technology roadmap of dozens of outstanding retailers. 
For those of you doing the math, I pre-date SaaS, online, Mobile POS, WFM, and just about every other technology used in retail stores today. 
In recent years, I've noticed many retailers increasingly recognizing the importance of consolidating the technology their store teams use into a single platform, and they're  seeing clienteling as a way to improve customer satisfaction, increase sales, and build long-term customer loyalty and CLV.
 For me, clienteling is non-negotiable.  It should be at the top of the technology roadmap now to ensure long-term success.   
What is clienteling? 
Clienteling is a customer-focused strategy involving building long-lasting relationships with individual customers by better understanding their needs and preferences and providing personalized service and recommendations before, during, and after the sale. 
The primary purpose of clienteling is to improve customer loyalty and retention and increase sales. The clienteling process gives store teams the tools and information needed to personalize each customer interaction at scale while  increasing operational efficiency.
Core components of a comprehensive clienteling system
Customer acquisition
Customer data capture
Assisted selling with customer 360° view
Comprehensive outreach capability
Wish list & collection builder
Comprehensive customer filtering
Appointment booking  & events management
Task management
Performance management/reporting
Data accuracy
Why clienteling & why now? 
Immediate ROI: clienteling will have an immediate positive impact on your bottom line
The formula is an easy one. According to the NRF, the average retail conversion is ~20%, meaning 80% of customers don't transact. Retailers can not rely on their POS as their primary tool for capturing customer data as they will learn nothing from the 80% of customers they come into their stores. 
Capturing information from the customers who are not transacting, creating personalized experiences for those who are, and sending 1-1 outreach to both retailers will immediately see an impact on conversion, AOV, and repeat purchases. This impact is instant and easily measurable. As the implementation and the system costs are low, retailers will often recoup their initial investment in the first year.  
Widely embraced by store teams and customers
Clienteling is embraced by both store teams and customers, making it a winning solution for retailers. Store teams appreciate the ability to provide personalized experiences to customers, and the technology makes their jobs easier. Moreover, a good clienteling system is easy to use and often requires little if any system training. 
Customers appreciate the increased efficiency and personalized attention a robust clienteling system provides, and will show their appreciation by spending more!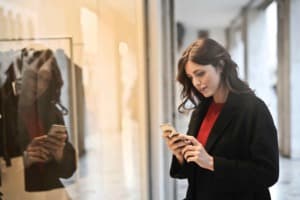 Clienteling is easy to implement
 Clienteling technology is relatively simple to implement and does not require extensive training or technical skills. The Proximity clienteling solution is a cloud-based solution that can be accessed through a web browser or a mobile app, making it easy for store teams to use on the floor. The software is user-friendly, and store teams can quickly learn how to use it to capture customer information, track their purchases, and provide personalized recommendations and experiences. As a typical implementation is 8-12 weeks and the integrations minimal, there is often little disruption to the team.
Clienteling is inexpensive
When prioritizing technology investments, dozens of factors must be considered, but often the decision can be simplified by considering two primary factors. The complexity of implementing the system and the value it will bring.
Clienteling implementations are often very straightforward, require only minor system integrations, and can be done in parallel with other technology implementations. As they drive immediate ROI, implementing a clienteling solution should be at the top of the priority roadmap!
If you're a retailer looking for an easy way to immediately increase revenue and customer loyalty, the Proximity Retail Super-App should be at the top of your list. If you'd like to chat about how clienteling can help your brand succeed, get in contact for a demo today.